Ski & snowboard rental shop, maintenance and repair and sell
DEEP SNOW TIGNES - TIGNES VAL CLARET - SERVICES
Skis and snowboards shop rental SKISET Deep Snow in Tignes Val Claret. A team of specialists is at your disposal to advise you.
SERVICES
You are here:
Services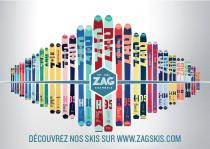 ZAG Official dealer
This year, for all ZAG skis purchased, we give you a free ski service !
Services
Official dealer ZAG skis
To be tested at DEEP SNOW Tignes and bought: ZAG skis.

To offer you total freedom to ski the whole mountain with skis perfectly adapted to your environment.
This philosophy is founded on the following principles:
To promote the spirit of adventure and freedom that is an inherent part of freeride skiing
To constantly innovate and allow you to choose the best trajectory, speed and feel without compromising in control and absolute comfort
To discover new sensations of sliding
To defend aesthetic skiing: the purity and beauty of curves skier must be included in the design and implementation of our skis
To encourage the passion and respect for the mountain.
See More
Equipment rental
Option to collect your equipment from 4:00 PM the day before
We offer various types of equipment adapted to your practice and your requirements.
See the different categories:
EVOLUTION
The pleasure of skiing effortlessly accessible with a comfortable and easy to guide equipment.
For those who are familiar their speed and trajectory in order to take up a challenge.
SENSATION
Performance equipment for sportsman in quest progression, effective on all terrains and in all types of snow.
For those going everywhere in confidence and effortlessly, different models can be proposed: slopes, off-piste and mixed.
EXCELLENCE
Precision and performance with the best of the new season 2017-2018

A selection of pointed equipment for demanding sport on slopes or freeride.
PREMIUM
Skis with luxury, technologically advanced equipment.
for children

RIDER JUNIOR
High Quality junior skis and snowboard for children ages 8 to 11 years old with a level of 3 stars or more.
ESPOIR
Skis for children aged 6 to 11 years, the discovery of the ski with level of second star.
MINI KID
Skis suitable for very young aged less than 6 years, ski length <1m.
See More
Maintenance / Repair
We offer a maintenance service and repair for your equipment.
The store is equipped with a repair, preparation and maintenance for your skis or snowboard.


You can leave your material after skiing and you get your equipment the next morning at 8:30 AM.
See More
Vente
The shop area offers a wide range of accessories.
Selected with great care by Isabelle, you will find everything you need: gloves / mittens, hats, socks, technical underwear, goggles, sunglasses, caps, lanyards ...

We look to offer you a wide choice of brands.
See More