Contact to reserve - Ski rental shop TIGNES Val Claret - SKISET – French Alps
DEEP SNOW TIGNES - TIGNES VAL CLARET - CONTACT
Skis and snowboards shop rental SKISET Deep Snow in Tignes Val Claret. A team of specialists is at your disposal to advise you.
CONTACT
You are here:
Contact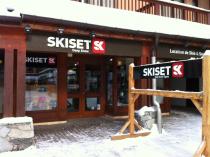 Opening hours
The store will be open from Saturday 27, Oct., 2018 until the end of the season.
The store is open every day:
from 8h30 to 19h without interruption
Option to collect your equipment from the day before since 3PM.

Where find us...
Rond Point des Pistes
Avenue de la Grande Motte
Le Val Claret
F-73320 TIGNES
Phone : 00 33 4 79 00 18 71
contact@deepsnowtignes.com
Contact us...
If you would like a quote for renting, thank you to give us details for each person:

Age, height, weight, type of equipment, skis or snowboard, complete pack or skis/snowbaord only, first day of skiing, place of residence, duration of booking, helmet option.

*Mandatory fields
« The information collected is processed by our system so your order can then be processed. The data is transferred to SARL THESIM. Pursuant to the French Data Protection Act of 6 January 1978 (Informatique et Libertés), as amended in 2004, you are free to access and correct your personal data and information. You can exercise this right by contacting SARL THESIM, Rond Point des Pistes - 73320 Tignes. You can also, for legitimate reasons, oppose the processing of your personal data. »